A couple of weeks ago, I had the pleasure of attending the PRSA International conference in Washington D.C., where Bettina Luescher of the World Food Programme was a speaker. She didn't talk about public relations, nor do I think she was really there to. What she talked about was the way that communication was changing and how it makes it easier for people to hear each other from all over the world. Specifically, she told us stories about the Haitian relief effort and how she got the phone number of one of the hottest A-list actors in the industry, George Clooney. Although her story was very entertaining and included a laundry list of celebrities and how they helped in the effort. The message that social media played a large role in raising enough money in a short amount of time to help remote areas during natural disasters, really plugged the message.
Personally, I think a lot of non-profit organizations are pretty annoying and I don't care much for them. That may sound rude, but its just the truth. I had not found an organization that I really believed in or felt made a great impact, although, I'm sure most of them do.
When Bettina began to discuss one of the items that she brought to stage, I finally heard something that reached me. What was it?... A red plastic cup!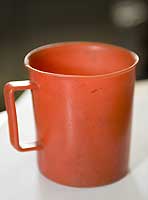 Bettina said that she took it everywhere she went to remind her and others that filling that red plastic cup can feed a child for a day.
"Fill the Cup" is an International campaign to raise awareness and funds for the 59 million children in the world's developing countries, who go to school hungry. What she said was that $5 can feed a child for a month. A whole month! That really hit me and I wanted to do whatever I could to spread the word. It is one thing to donate to a beautiful cause like this, but since I work in public relations, I figured I would volunteer my skills and voice to further promote this grand effort.
Perhaps my audience in limited now, but I will continue to find ways to promote the 'fill the cup' campaign continuously. So please, don't get annoyed, you can just skip those blogs, emails or tweets if/when I do share them, but if you would like to make a real difference, this is one program that can make a difference in the way we care for each other on a global scale.